REGULATION
Today, by virtue of EC regulation N°2037/2000 on substances that deplete the ozone layer, published in the Official Journal of 29th June 2000, « from 1st January 2010, the use of virgin hydrochlorofluorocarbons shall be prohibited in ...

THE MAGAZINE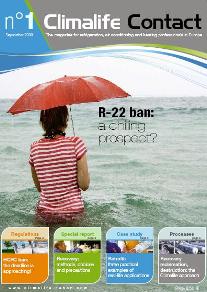 SPECIAL ISSUE R‑22

Climalife
Contact




ISSUES
R‑22 ban, the deadline is over !
Since 1st January 2010, the use of virgin R‑22 is prohibited for the maintenance and servicing of refrigeration and air-conditioning equipment. Only recycled or reclaimed R‑22 is allowed until the end of 2014.
Today it is estimated that some 100,000 tonnes of R‑22 are currently in use in Europe. We already know that the amount of R‑22 recovered annually will fall well short of meeting the maintenance needs. In some countries this situation might even become critical.
The need to replace this refrigerant is therefore more urgent than ever.

CLIMALIFE SOLUTIONS
In order to top up leaks on R‑22 systems in 2010 and ensure the continuity of your maintenance contracts, Climalife can offer reclaimed R‑22, marketed under the name of R‑22T.
Climalife offers you the possibility to :

either treat your R‑22 upon request and to place R‑22T at your disposal in the containers of your choice.
or to store your R‑22T on one of our industrial sites after signing a storage agreement.
Our Services team will be happy to discuss any specific requests you may have for on-site recovery, system recharge, etc.
R‑22T is available in a range of containers sizes.

A QUALITY ENGAGEMENT
A quality label & a « tailor-made » follow-up
R‑22T's specifications ensure a recycled quality product, with at least 95% purity garanteed. To ensure that the R‑22T we produce is of the highest quality, Climalife's laboratories always perform analyses both during and after the reclamation cycle.

CASE STUDIES
NEED HELP ?
A question, more information ?
Do not hesitate and contact one of our experts :
English : 00 32 475 28 60 88
French : 00 33 6 16 67 42 14
German : 00 49 1722 9230 34
Dutch : 00 32 475 28 60 88
Hungarian : 00 36 306 880 699
Or send us an e-mail :
info@R22T.com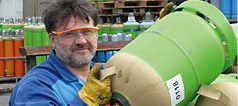 RECLAMATION OF R‑22
R‑22T is a high quality HCFC resulting from the recovery and reclamation of R‑22 executed on our industrial sites which are entitled and certified to carry out this activity.
Description of the cycle carried out by the R‑22 : from its collection, to reclamation to resale under the name R‑22T
More info

QUESTIONS / ANSWERS